About Us
Fine craftsmanship and cutting-edge technology come together with each metal fabrication project we undertake.
The Edwards Ornamental Iron Difference

Since 1947, our family has been crafting Florida's finest custom metalwork. Come see what we can do.
Who We Are
We are a full-service custom metal work manufacturer in Jacksonville, FL. We've been your local source of high-quality metal ornaments and architectural fittings since 1947. Our multiple decades of experience in the industry have made Edwards Ornamental Iron synonymous with quality and craftsmanship.

We craft completely custom iron and other metal designs from the ground up. Our team of metal artisans employs modern methods in our ancient craft. We are also at the forefront of innovation and invention in access control. Modern systems like gate operators and keypads can be seamlessly integrated with hand-crafted metal fencing to create a true one-of-a-kind showstopper that's as beautiful as it is secure.
Our Process
When you need custom metal work or access control, we make it as simple as possible. As the manufacturer, installer, and servicer of metal work and access control systems, we offer a one-stop shop for the entire process. From design selection to installation and service down the road, we make dreams an attainable reality.

Our 5,000-square-foot showroom features in-person examples of our craft. This showroom is where your journey begins. We'll help guide you through your options and settle on a design plan. Once the design has been formulated, we'll look at additional needs such as gate operators, keypads, telephone entry systems, magnetic locks, or even safety loops and beams.

Before you know it, your metal gate, fencing, and other fixtures will be complete, and we'll be on-site to install them. It's that simple. We'll build your metal work to the highest standard for your complete satisfaction and can keep everything running smoothly for years to come. As both metal artisans and access control specialists, we can't settle for mediocrity. We'll strive to create the perfect representation of your tastes and style in a timelessly elegant piece that's as secure as it is beautiful.
Variety of Products
Of course, there is no limit to the custom metal products we can manufacture. As a custom metal work company, we have the ability to fabricate everything from driveway gates and ornamental railings to landscaping ornaments and parking lot barriers, whether you need something practical, decorative, or both.
Our Jacksonville facility features an impressive showroom where we highlight what we can do. Some of our custom metal work services include the following:
Driveway gates
Walkway gates
Ornamental stairs
Ornamental fencing
Access control systems such as gate openers and keypads
Slide gate operations
Custom steel, aluminum, and iron manufacturing
Whether you need a whole new creation or a skilled technician to service your existing system, we are your true one-stop shop.

We firmly believe that our people are our greatest assets. Meet the crew behind the magic.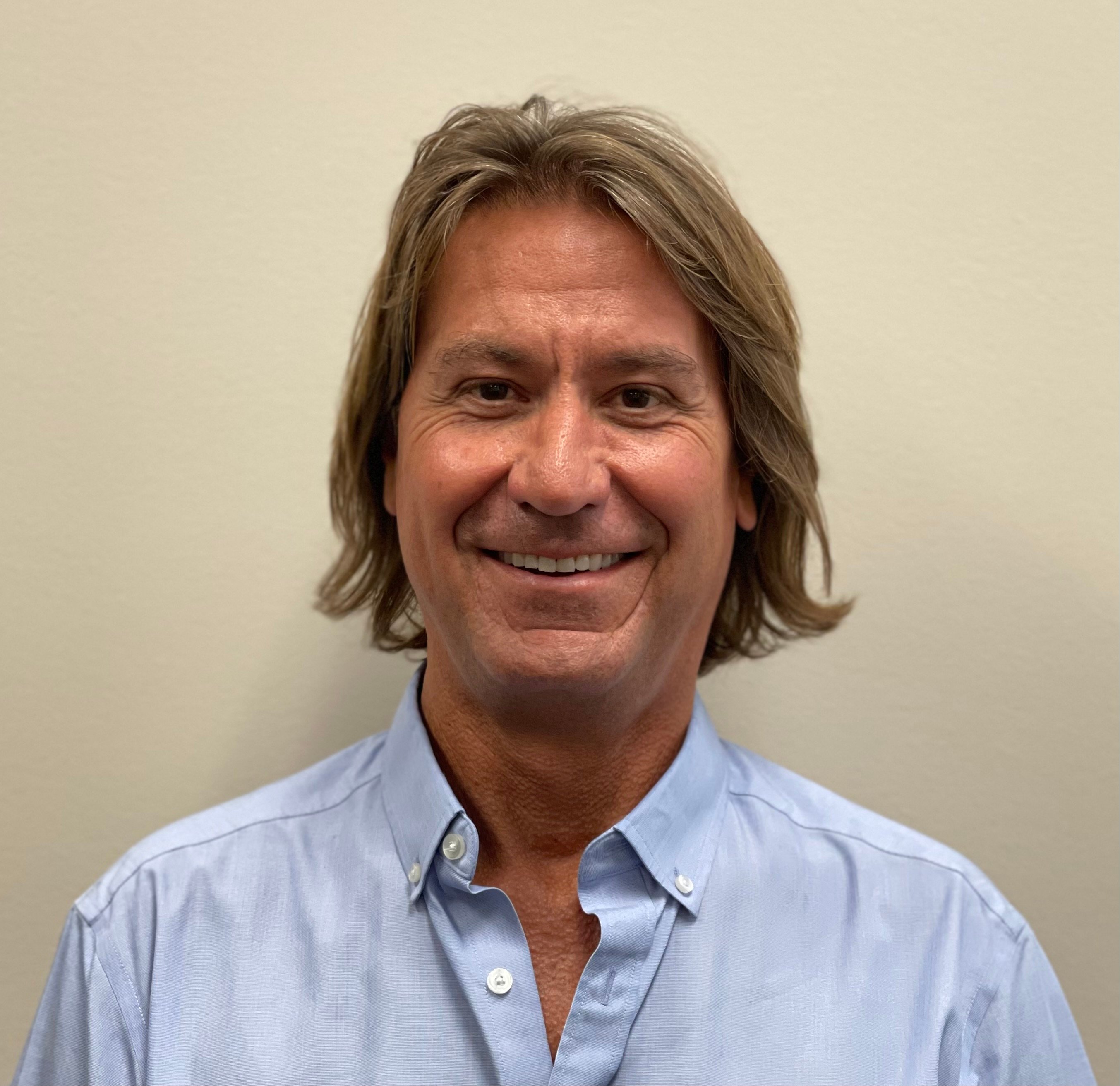 Michael Thurman
President
Michael "Mike" Thurman is the President of Edwards Ornamental Iron, Inc. He followed his father, James Thurman, and grandfather Harold into the business full-time in 1986 after growing up in the company from youth. Mike graduated from Jacksonville University Summa Cum Laude in 1986 with dual degrees (BA and BS) in Chemistry and Biology. He also holds a USCG captain's license and is a trained rescue diver. Hobbies include sailing, yachting, scuba diving, exotic cars, and motorcycles. Mike has three grown children, Lloyd, Daniel, and Samantha. His Son, Lloyd, is currently the company's vice president, and Mike's nephew Josh holds the position of CFO.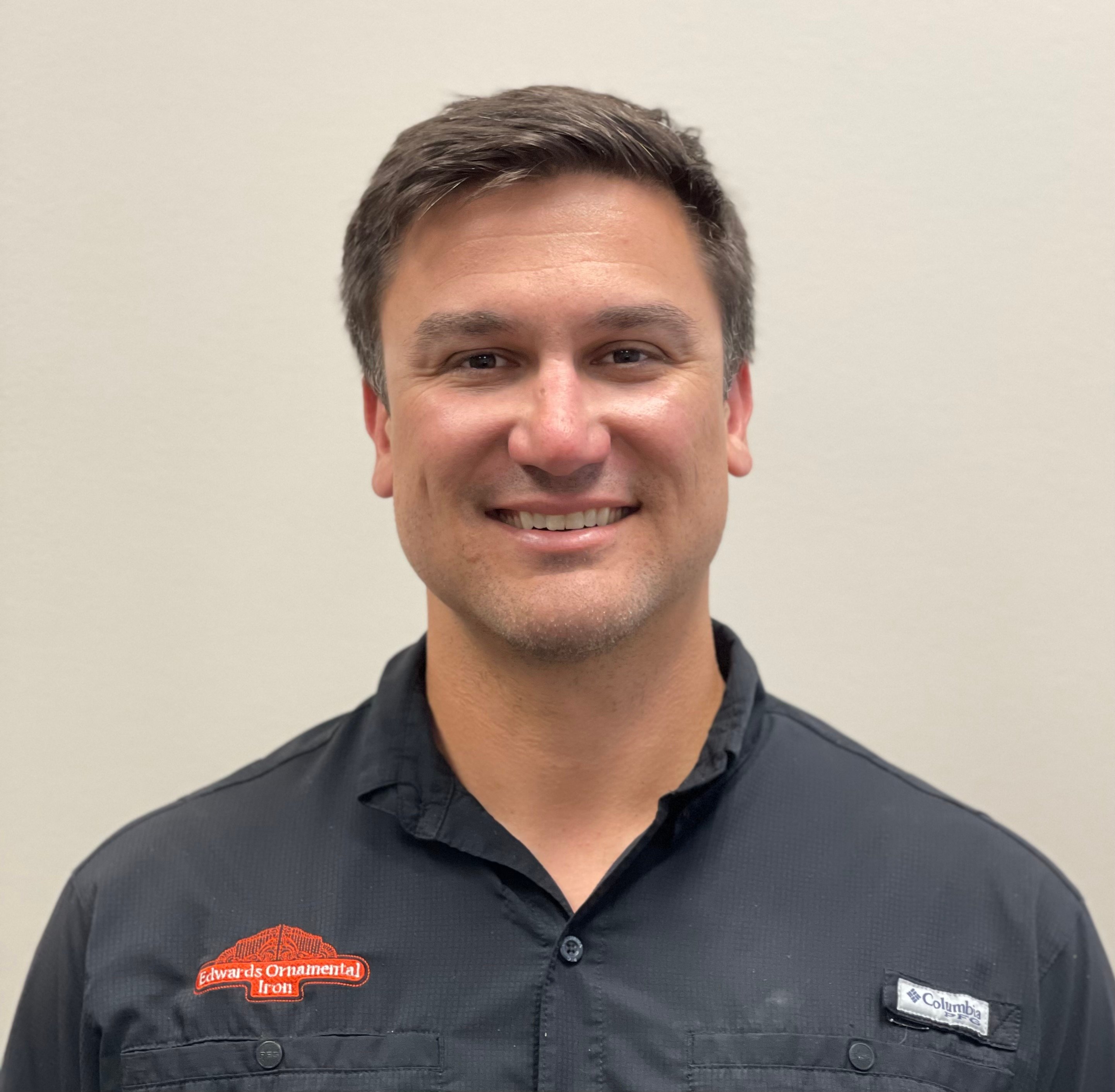 Lloyd Thurman
Vice President
Lloyd Thurman is Vice President of Edwards Ornamental Iron, Inc. He graduated from the University of Central Florida in 2009. He went on to get a master's degree in Public Administration from the University of North Florida. Lloyd has spent the last 11 years learning the trades in various roles here at Edwards. In his free time, he enjoys the outdoors and Jaguars games with his wife, Jennifer, and his two children, Wyatt and Abigail.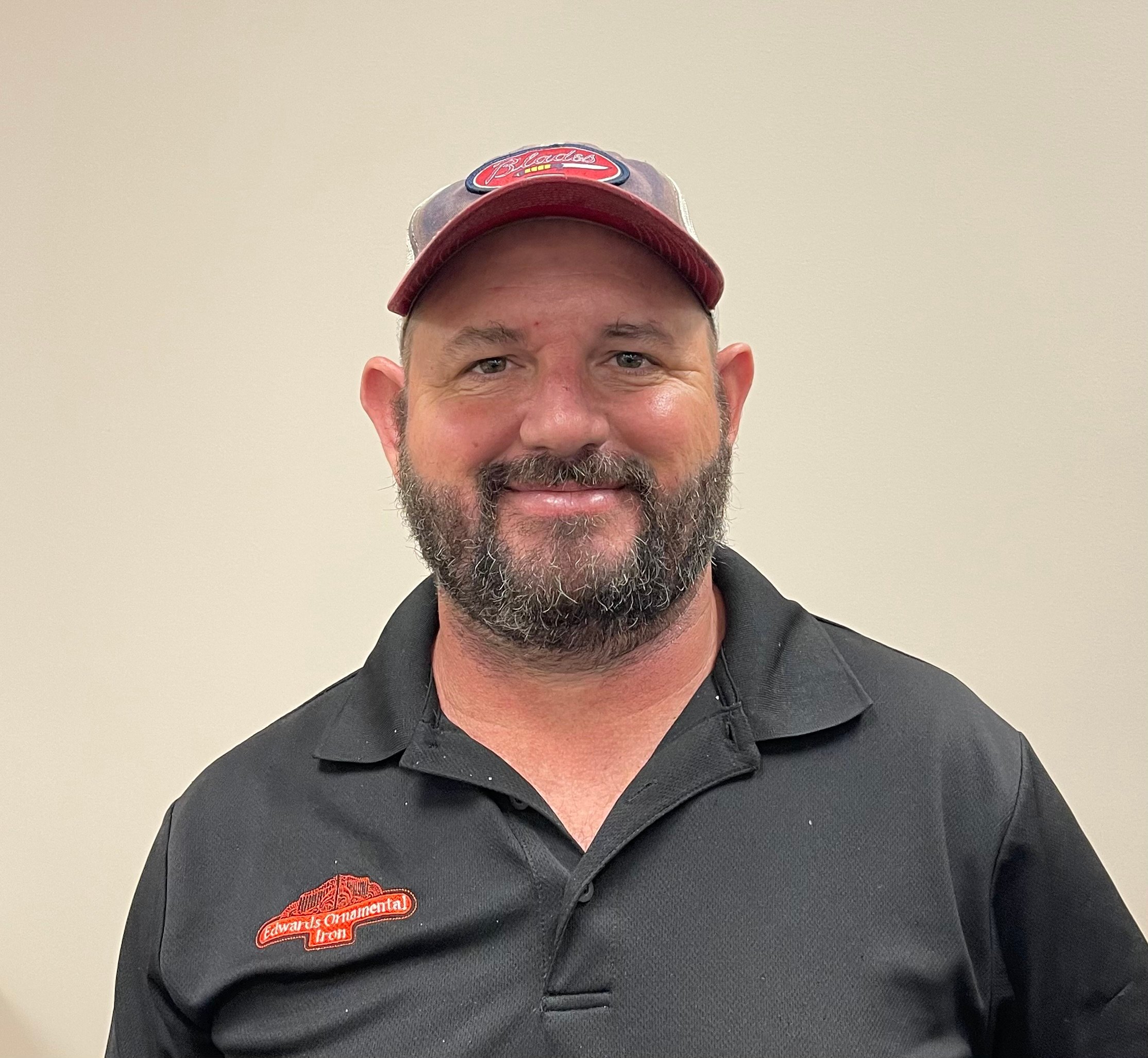 Mike Powell
General Manager of Electronics
Mike Powell is the General Manager of Electronics for Edwards Ornamental Iron, Inc. Mike holds over 18 years of experience in Access Control Systems. He has a Bachelor's Degree in Business Administration Information Technology. Mike spends his free time forging knives (Mike enjoys the honor of being a "Forged in Fire" Champion), fishing, and golfing.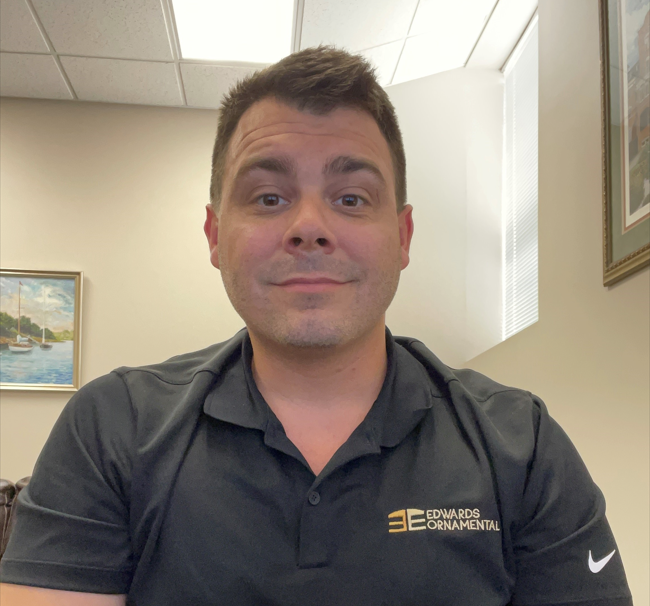 Joshua Thurman
Chief Financial Officer
Joshua Thurman is the CFO of Edwards Ornamental Iron, Inc. He holds a Bachelor's Degree in Business Management from the University of Central Florida. After graduating in 2014, Josh spent several years in the automotive industry, where he focused on finance, growing the business and leadership in many parts of the country (Denver, CO, San Antonio, TX, Dallas, TX, and Charlotte, NC) before taking the role with Edwards Ornamental Iron, Inc. Outside the office, Josh's hobbies include fishing, boating, golfing, and snowboarding.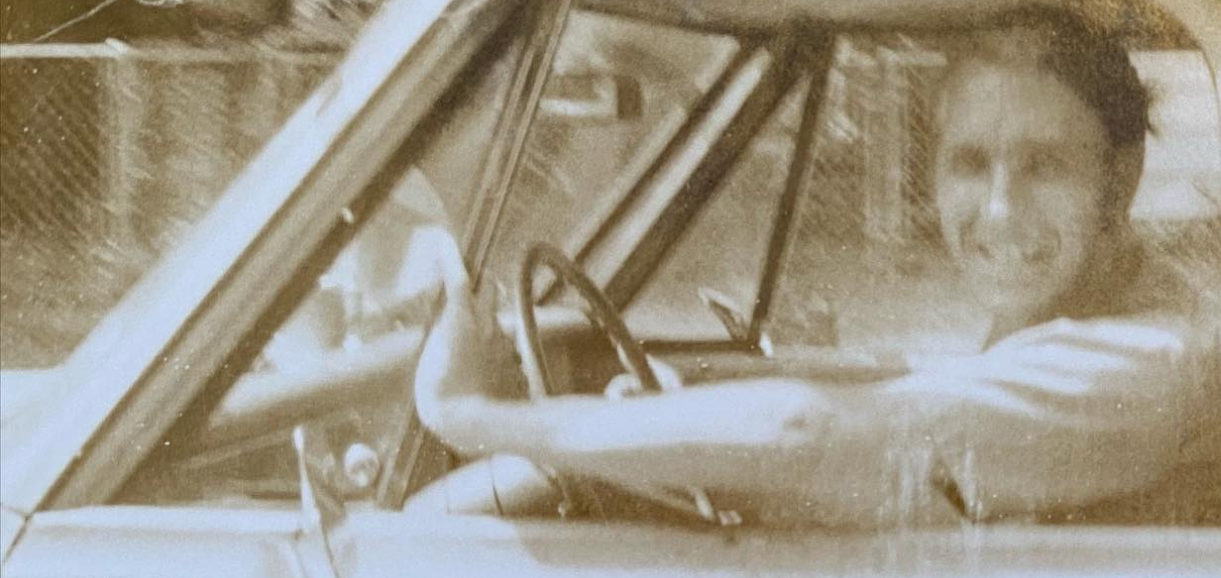 From our inception in 1947, we have striven towards the goal of crafting beautiful, high-end metal work fabrication. Though it has taken years to establish ourselves in this industry, Edwards Ornamental Iron is now a powerhouse of custom metal manufacturing.

Like many others in the industry, innovation has been essential to our success. Much has changed since 1947, and we have kept up with the modern era. We constantly rethink our process and equipment to be the best that we can be. We utilize cutting-edge technology to design and fabricate custom metalwork for both residential and commercial customers.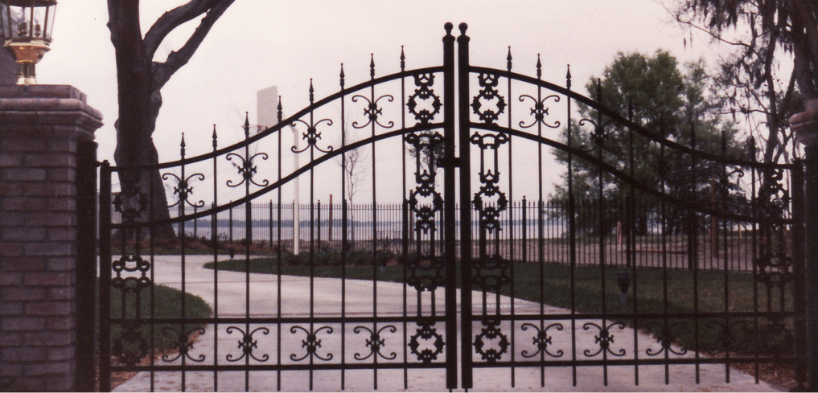 With the increased need for automated security systems, our team saw the gap between high-end metal work and access control systems. Marrying up old-world craftsmanship with high-tech access control tech like telephone entry systems and safety loops, you're left with a finished project that's safe, secure, and absolutely gorgeous.

Today, we enjoy a 31,000-square-foot manufacturing facility and a 5,000-square-foot showroom so that our clients can see and feel the Edwards Ornamental difference for themselves. From all types of metal work to installing and servicing gate operating systems, we truly are a one-stop shop. Our project range typically takes us between South Carolina, Georgia, and Florida; however, we can also ship your custom project domestically and internationally.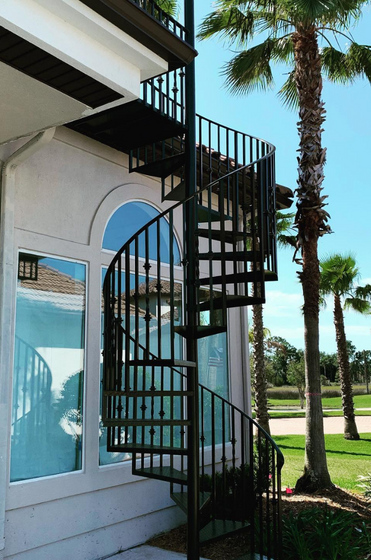 Though we can talk about it, experiencing our showroom is much better. We're conveniently located on West Beaver Street in Jacksonville. Visit our custom metal work showroom today.